Apiezon H Grease

What is Apiezon H grease?
Apiezon H Grease is a silicone-free high vacuum grease perfectly suited for use at high temperatures in both scientific and industrial applications.
H Grease has exceptional 'stiction' and thermal conduction properties and has gained prestigious approvals from a variety of international organisations, including BAE Systems, the European Space Agency and NASA.
What are the properties of Apiezon H grease?
Apiezon H Grease is a silicone-free high temperature vacuum grease which:
performs well under a wide range of temperatures, from -10 to +240°C, and retains its optimum consistency at temperatures between +10 and +110°C
rather than melting, actually becomes stiffer as temperature increases and therefore is not recommended for highly stressed bearings
has excellent heat transfer properties
conducts heat away from the site of operation, reducing the danger of overheating and damaging heat-sensitive components
exhibits good 'stiction' or sticking power
has powerful 'gettering' action, meaning it absorbs potentially harmful grease and chemical impurities on metal and glass surfaces
is easy to clean and remove as it is soluble in hydrocarbon solvents
exhibits a vapour pressure of 1.7 x 10-9 Torr at 20°C
Available to buy in 25g tubes.
When should Apiezon H grease be used?
As a high temperature, low to medium vacuum grease with excellent 'stiction' power and good thermal conduction properties Apiezon H Grease is used for many diverse applications. In particular H Grease is commonly used in scientific and industrial high temperature sealing applications.
Thanks to its 'stiction' power Apiezon H Grease is ideal for use with laboratory glassware such as short path distillation systems; it is also favoured by the electronics and space industries where its high thermal conductivity makes it the perfect vacuum grease in situations where heat sink media requires adhesion.
Apiezon H grease has been approved by NASA as a material suitable for lubricating the gold-plated threads of small variable capacitors required to operate under high vacuum from -65°C to +125°C to prevent galling.
To find out more about Apiezon H Grease or the Apiezon family of silicone-free high vacuum greases manufactured by M&I Materials Ltd, contact our team of experts available via our helpline and online.
Apiezon H Grease Vapour Pressure Graph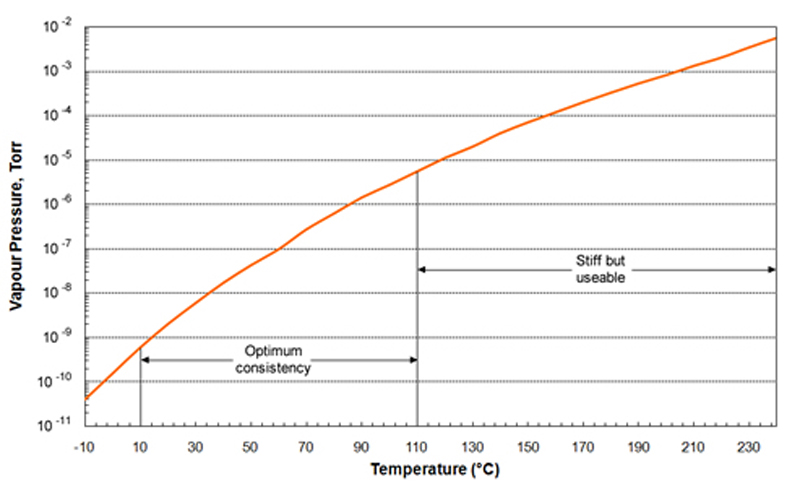 Q: How do you clean off Apiezon hydrocarbon greases?
A: Wipe off any excess grease with a soft clean lint free cloth. Any residues of grease can be washed away with warm soapy water or by using any aromatic hydrocarbon solvent (toluene, xylene). For a more environmentally friendly solvent, we recommend limonene. They cannot be cleaned using alcohols (ethanol, IPA) or ketones (acetone, MEK).
Q: What is the shelf life of an opened Apiezon container?
A: The complex chemical structure of Apiezon greases gives them strong 'gettering' properties, this means that they will readily absorb airborne vapours particularly water, and other hydrocarbons. If volatile vapours are absorbed then the greases will lose their excellent vapour pressure characteristics until these contaminants have been outgassed.
This is why we pack the greases in 'vapour-proof' aluminium tubes. As we have no control over the use of the greases once they have been opened we cannot quote a shelf life for the products after opening. Practically, however, if care is taken in re-capping the tubes immediately after use and they are not exposed to volatiles then a long service life should not be a problem.
Apart from absorption of volatiles the products are stable and no other changes would be anticipated in the long term. Apiezon PFPE 501 is perfluoropolyether-based and hence is highly inert and less likely to absorb airborne vapours than the hydrocarbon greases.
Q: What o-ring materials are compatible with Apiezon hydrocarbon oils and greases?
A: Apiezon hydrocarbon greases and oils are silicone-free and are compatible with a wide range of o-ring materials including viton, silicone, nitrile (>30% nitrile content), nylon, polyurethane, polyethylene and polypropylene. Due to their hydrocarbon formulation they are not compatible with EPDM (ethylene propylene diene M-class rubber), EPR (ethylene propylene rubber), Butyl rubber and PVC seals.
Q: Are Apiezon hydrocarbon greases resistant to acidic vapours or chlorine?
A: Apiezon hydrocarbon greases are all based on molecularly distilled hydrocarbons and as such will show a high degree of resistance to acidic reagents and chlorine.
Q: Are Apiezon greases suitable for use in an oxygen (or LOX) environment?
A: Due to the small risk of auto-ignition from hydrocarbon-based greases, PFPE 501 is the only product in the Apiezon range suitable for use in this application.
Q: Do Apiezon greases show luminescence under UV radiation?
A: With the exception of Apiezon PFPE 501, all of the Apiezon greases show blue luminescence. Full details are in the paper "Long-Lived luminescence from commonly used Apiezon compounds" D.W Cooke, B.L. Bennett. Journal of Luminescence 65:1996. A copy is available on request.
Q: I manufacture edible products – what is the best grease to use?
A: You may now use Apiezon PFPE 501 where incidental food contact may occur, such as to lubricate chains or other machinery parts. The content in the final product must not exceed 10ppm (parts per million).
Q: What happens to Apiezon greases above their melting point?
A: All the greases (apart from Apiezon H grease) liquefy but then return to their normal state and properties on cooling, providing the temperature rise has not been excessive. The melting point of Apiezon PFPE 501 is higher than its 250°C operating temperature limit, which should not be exceeded (see respective Safety Data Sheet).
Ask Apiezon
CALL: +44 (0)161 864 5409
Ask Apiezon
CALL: +44 (0)161 864 5409
Technical Data Sheet
DOWNLOAD NOW
Safety Data Sheet (SDS)
DOWNLOAD NOW