Apiezon AP100 Grease

What is Apiezon AP100 grease?
Apiezon AP100 vacuum grease is a silicone-free vacuum grease and lubricant.
Containing PTFE, AP100 exhibits extremely high levels of lubricity and has been shown to provide eight times the level of lubrication offered by standard, petroleum-based lubricating greases.
Apiezon AP100 is designed for use at ambient temperatures (generally between 10 to 30°C / 50 to 86°F). If you are looking for a grease capable of performing at higher temperatures, Apiezon AP101 or Apiezon H Grease may be more appropriate.
What are the properties of Apiezon AP100 grease?
Apiezon AP100 Grease is a silicone-free ultra high vacuum lubricating grease which:
has anti-seize properties, making it an effective protector and lubricant in ultra-high vacuums
exhibits extremely high levels of lubricity
demonstrates an extremely low vapour pressure of 7 x 10-11 Torr at 20°C
is recommended for use at ambient temperatures
does not suffer from contamination problems associated with silicone based greases such as 'creep' or 'carry over'
is easy to clean and remove using hot water and an aqueous glassware detergent or hydrocarbon solvents
Available to buy in 50g tubes
When should Apiezon AP100 grease be used?
The unique properties of Apiezon AP100 lubricating vacuum grease mean it is frequently used to protect stepping motors and gearboxes from corrosion and abrasion, particularly when they are subjected to high load conditions. AP100 is also used to prevent seizure in stopcocks, taps and small metal fastenings.
The creep resistance of Apiezon AP100 benefits scientific and semiconductor users alike. AP100 helps to increase the accuracy of analytical techniques and improve yields in semiconductor manufacture by contamination avoidance. In addition, AP100 is used for surface coating applications where silicone contamination can lead to poor surface adhesion and incomplete coating defects.
To find out more about Apiezon AP100 grease or the Apiezon family of silicone-free high vacuum greases manufactured by M&I Materials Ltd, contact our team of experts available via our helpline and online.
Apiezon AP100 Grease Vapour Pressure Graph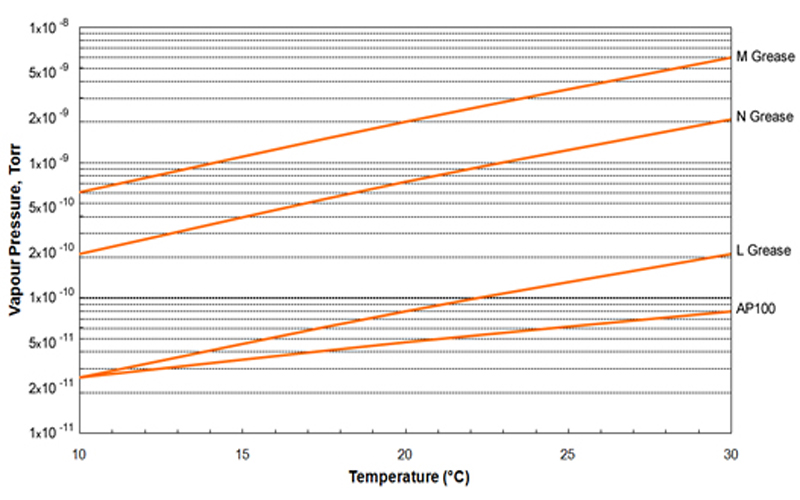 Apiezon AP100 Grease FAQs
Q: How do you clean off Apiezon hydrocarbon greases?
A: Wipe off any excess grease with a soft clean lint free cloth. Any residues of grease can be washed away with warm soapy water or by using any aromatic hydrocarbon solvent (toluene, xylene). For a more environmentally friendly solvent, we recommend limonene. They cannot be cleaned using alcohols (ethanol, IPA) or ketones (acetone, MEK).
Q: What is the shelf life of an opened Apiezon container?
A: The complex chemical structure of Apiezon greases gives them strong 'gettering' properties, this means that they will readily absorb airborne vapours particularly water, and other hydrocarbons. If volatile vapours are absorbed then the greases will lose their excellent vapour pressure characteristics until these contaminants have been outgassed.
This is why we pack the greases in 'vapour-proof' aluminium tubes. As we have no control over the use of the greases once they have been opened we cannot quote a shelf life for the products after opening. Practically, however, if care is taken in re-capping the tubes immediately after use and they are not exposed to volatiles then a long service life should not be a problem.
Apart from absorption of volatiles the products are stable and no other changes would be anticipated in the long term. Apiezon PFPE 501 is perfluoropolyether-based and hence is highly inert and less likely to absorb airborne vapours than the hydrocarbon greases.
Q: What o-ring materials are compatible with Apiezon hydrocarbon oils and greases?
A: Apiezon hydrocarbon greases and oils are silicone-free and are compatible with a wide range of o-ring materials including viton, silicone, nitrile (>30% nitrile content), nylon, polyurethane, polyethylene and polypropylene. Due to their hydrocarbon formulation they are not compatible with EPDM (ethylene propylene diene M-class rubber), EPR (ethylene propylene rubber), Butyl rubber and PVC seals.
Q: Are Apiezon hydrocarbon greases resistant to acidic vapours or chlorine?
A: Apiezon hydrocarbon greases are all based on molecularly distilled hydrocarbons and as such will show a high degree of resistance to acidic reagents and chlorine.
Q: Are Apiezon greases suitable for use in an oxygen (or LOX) environment?
A: Due to the small risk of auto-ignition from hydrocarbon-based greases, PFPE 501 is the only product in the Apiezon range suitable for use in this application.
Q: Are Apiezon greases resistant to radiation?
A: Apiezon L and M greases show a degree of radiation resistance with only a comparatively small increase in stiffness after irradiation with 4 MeV electrons to a level of about 1 MGy. After this exposure the lubrication properties of the grease are still satisfactory and this is true at even higher levels of irradiation, although the stiffness increases more rapidly.
At high levels of irradiation small quantities of gases, (mainly methane and ethylene) are evolved so that the grease loses its very low vapour pressure characteristics. Nevertheless Apiezon greases L and M are markedly better lubricants at high irradiation levels than other high vacuum lubricants such as silicones, esters and halogenated products.
Q: Do Apiezon greases show luminescence under UV radiation?
A: With the exception of Apiezon PFPE 501, all of the Apiezon greases show blue luminescence. Full details are in the paper "Long-Lived luminescence from commonly used Apiezon compounds" D.W Cooke, B.L. Bennett. Journal of Luminescence 65:1996. A copy is available on request.
Q: I manufacture edible products – what is the best grease to use?
A: You may now use Apiezon PFPE 501 where incidental food contact may occur, such as to lubricate chains or other machinery parts. The content in the final product must not exceed 10ppm (parts per million).
Q: What happens to Apiezon greases above their melting point?
A: All the greases (apart from Apiezon H grease) liquefy but then return to their normal state and properties on cooling, providing the temperature rise has not been excessive. The melting point of Apiezon PFPE 501 is higher than its 250°C operating temperature limit, which should not be exceeded (see respective Safety Data Sheet).
Ask Apiezon
CALL: +44 (0)161 864 5409
Ask Apiezon
CALL: +44 (0)161 864 5409
Technical Data Sheet
DOWNLOAD NOW
Safety Data Sheet (SDS)
DOWNLOAD NOW